Minsu D. Blanca
PT, MSPT, DPT, CPT, MBA, CranioSacral Therapist, Certified Hypnotherapist, Energy Medicine Practitioner
Ever since she was a little girl Dr. Minsu Blanca, knew that she wanted to heal people for a living. She remembers helping her grandfather from an early age with cervical pain. She recalls how he suffered from cervicalgia and how he relied on her for aid, often asking her to massage his neck to help him fight the pain, almost as if knowing what she one day would become. After losing her older brother at the age 8 to leukemia, Dr. Blanca knew that she wanted to dedicate her life to helping people. Coming to the United States with her single mother and younger brother at the age of 12 proved to be a difficult task. Enduring hardships and difficult times, she had to strive for what she wanted and find ways of moving forward to achieve her dreams despite the many obstacles along the way.
After earning two Bachelor degrees from Northeastern University and the University of Miami respectively Dr. Blanca was chosen to be one of five students from all over the United States to receive a full scholarship to study Physiotherapy at the European School of Physiotherapy in the Netherlands. Here she graduated with honors, and honed her skills in manual therapy.
In her physical therapy practice, Dr. Blanca realized there were deep, underlying issues beneath the physical complaints of her patients. Getting to the actual root of and resolving the conditions became a passion of hers, thus she embarked on a journey that would lead her to tap into and discover a more comprehensive view of contributing factors. Her journey took her into 8 years of further studies of Eastern and Western techniques, allowing her to tap into a more comprehensive, integrative & holistic points of view and treatments to help her patients further.
Fluent in English, Spanish, and Portuguese, Dr. Blanca also understands some French and Dutch.
Dr. Blanca has achieved A+ grading with the Better Business Bureau, has graduated as Suma Cum Laude from business school & attends several annual conferences such as the APTA; American Academy of Orthopedic Manual Physical Therapy Conference; the World Confederation of Physical Therapy Conference; American Physical Therapy Conference; and Be the Change. She also offers weekly complementary one hour support group session for cancer patients & drug/alcohol addicts, as well as a support group sessions for children who are going through divorce or bulling.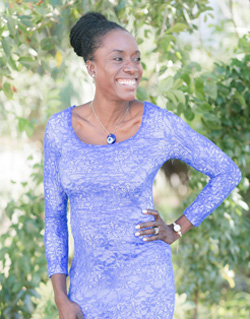 Cheryl Mullin
ISSA Certified Fitness Trainer Certification; AFAA Group Aerobics Certification; Zumba Basics Certification; Silver Sneakers MS-ROM Certification; Silver Sneakers Yoga Certification; CPR/AED/First Aide Certified
Cheryl Mullin found her love for sports and fitness at a young age. Participating in several organized sports for the first twenty years of her life, she developed a great understanding for the importance of staying active and competitive. The traits obtained from being an athlete then transferred to her certifications in Fitness Training and Group Aerobics Instruction. Throughout her years of study at Florida International University, she applied classroom knowledge in Psychology and sports training in Track and Field, Cheerleading and Dance to help build her physique. Cheryl has worked extensively with schools, corporations and parks and recreations in South Florida to bring fitness programs to their employees and the general public. Building relationships and deepening her passion for helping others lead to her becoming the Owner of Tone You Up, Inc. a fitness company for women, which successfully operates since 2006. With persistence and dedication within the workplace, Cheryl hopes to motivate, inspire and help each client attain their fitness goals. Cheryl works directly with our Healing Oasis to promote a healthy and safe environment for everyone to participate in fitness classes. Cheryl believes that everyone has an inner athlete, and has a drive to perform better. She enjoys all areas of fitness but truly loves the idea of building an aesthetic physique while staying functional. Cheryl believes that Minsu's Healing Oasis is the perfect foundation for everyone to take root and grow stronger over their lifetime!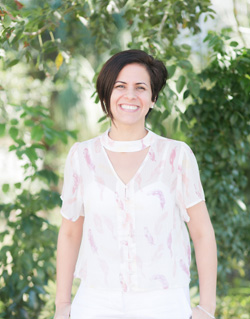 Yahima Capote Fernandez
LMT, Certified Reiki Practitioner
Yahima Capote Fernandez, LMT, Certified Reiki Practitioner, arrived to the United States with the dream of helping others feel better about themselves physically and emotionally. She discovered she had a natural gift for helping with pain control when friends began asking her for massage to help their different body ailments. She decided to dive deeper into this career and enrolled at the D'Praxis Institute graduating as an LMT with a basis in therapeutic massage. After completing her training, she decided to further her education with body and facial treatments enrolling then at the renowned Nouvelle Institute. Her passion for education and helping others has also led her to complete trainings in Reiki. As a result she is also a gifted Reiki practitioner & a children creative expression facilitator.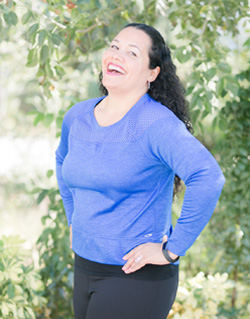 Joanne Torres
Occupational Therapist
Her mother used to call her, her "little social worker" growing up because she was always trying to help her friends with various situations and to feel better. So it was never a surprise to any that she would end up as a healthcare professional. Her journey to Occupational Therapy started with volunteering and visiting many hospitals and vocational programs where she got to see how extensive rehabilitation could be. From working with preschool kids helping them write to helping seniors with dressing, safety issues and balance problems, Occupational Therapy truly has no limits! She was very lucky to have great mentors and teachers in NY who believed in her & helped with school and scholarships. She has been fortunate to work with many populations in different settings and a variety of needs which has enhanced her skills as an occupational therapist. Working as an OT in NY and Fl. has been an amazing experience in health culture, patience and hope.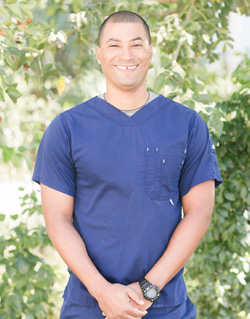 Yosuee Barrios Curbelo
PTA/LMT
His love for his profession began at an early age, when he himself was part of the sporting world back in his native country of Cuba. Yosuee was involved in sports all of his life, and he knew then that he needed to continue helping athletes in some capacity. So he decided to go into the health field to do just that. Now Yosuee is an accomplished and highly trained Physical Therapist Assistant with a solid history of achievement in Sport Medicine, working in the highest level of professional competition in the world as PTA, treating nine Olympic and World Champions and many others great and prestigious athletes from 11 countries.
Yosuee is a motivated leader with strong organizational and prioritization abilities. His areas of expertise include skilled hands, great handling of treatment of somatic pathologies and their causes, professional body care and right ability to work in team and treat athletes and patients. He possesses strong clinical abilities and has a passionate commitment for first-rate patient care.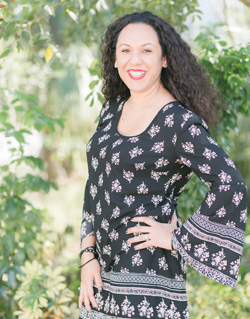 Vimari Roman
Life Coach
Vimari has always loved working with people and has a natural gift for recognizing other people's strengths and talents. It was the road to leadership, entrepreneurship, hardships and faith that let Vimari to becoming a professional coach in 2014. She is now a Certified Life Coach who helps individuals achieve their peak potential and live a fulfilled life by utilizing their natural gifts and talents.
In 2012 Vimari's life took a complete shift and she was forced out of her comfort zone. Within less than a year, she lost her job, ended her eight year marriage and started a company. The job ending initially was of a relief for her because for the first time in her career she was at a place where her values did not align with the culture. Vimari was very happy to part ways from her job with some financial stability but after a couple of weeks she found herself for the first time in her career without a job and not having the motivation to put herself back in the market. Vimari took that opportunity and decided to give the road to entrepreneurship a try. In 2013, she earned her Certificate in Meeting Management (CMM) and founded Be Productive Meetings & Event's as an independent meeting planner. Shortly after going on her own, Vimari attended Tony Robbin's "Unleash the Power Within" and it was then she recognized that although she loved having her meeting planning business, there was something missing. After some soul searching, research and hiring a Coach, in early 2014 Vimari became a certified Strategic & Intervention Leadership Coach. Today she is happily married and leads people to obtain the life and career they were meant to lead.
As a manager and leader, Vimari has always had a passion for training and mentoring individuals which is what made her successful throughout her career in the corporate world. Her captivating personality, experience and dedication it's admired and has helped her make a difference in the lives of many. Vimari's motto is to everyday do something to become a better version of herself, and she believes that by doing exactly that she can also help others become a better version of themselves.
Vimari would love to talk to you and is available for complimentary discovery consultations. She can be contacted at 786-340-3174 or via email at vimari@beproductivecoaching.com. You can also visit her website at www.beproductivecoaching.com to learn more about her services and packages.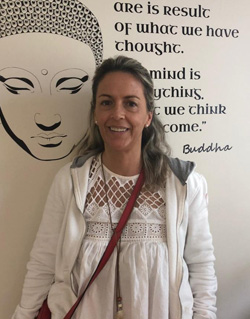 Maria De Diego
Educadora Infantil y Profesora de Mindfulness y Yoga para niños
A Maria le gustan muchos los niños y siempre se sintió atraida por ayudarlos, tanto asi que se enrolo' en cuatro años de educación en sanacion interna e externa a base de energia para ayudarse no solo a si mismo, si no también a los pequeños que necesitasen de su ayuda.  Ella es apasionada con el mundo de las emociones, su propósito es enseñar a los niños por medio del juego a obtener herramientas para que reconozcan y gestionen sus emociones para de esa manera facilitarles una mejor adaptación escolar, social y familiar.
Su deseo también es expandir los beneficios y bondades del Mindfulness y Yoga para crear una nueva generación de Yoguis.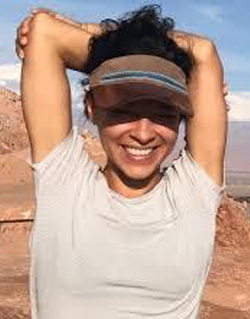 Maria A. Petit
Certified Bulletproof© Human Potential Coach/Performance, Lifestyle & Wellness
Maria has a passion for wellness and healthy mind and body. Her own interest in keeping herself healthy and fit led her to discover the Bulletproof program. She became passionate about their easy way to keep healthy & fit and decided to dive deeper into their teachings, becoming a certified nutritional coach for Bulletproof. She is loves to travel and to help people in different parts of the world as a health nutritional coach with "The State of High Performance" that includes weight loss, athletic performance, career and life transitions and energy focus and wellness. Maria's goal is to help her clients achieve their Goals, Realize their Potential, and Upgrade their Body, Mind & Energy.
You can find more about Maria Petit here: https://www.mspetitcoach.com/about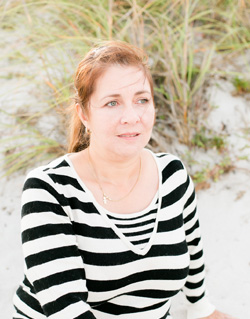 Sylvia Espino
RN
Silvia always knew that she wanted to become a nurse. She says that her love for nursing lives deep in her heart. The willingness to help heal others and give them a sense of peace, hope and reassurance when they are at their worst comes easy to her. As a nurse she works with love and passion. And her biggest joy comes when she helps patients live with a better quality of life.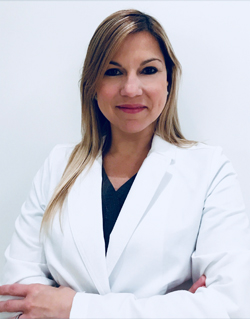 Ana Clarke
L.Ac. licensed Acupuncturist Physician
Ana specializes in the treatment of pain management and women's health and fertility. She employs acupuncture, Tui-na, cupping, and Chinese herbal medicine, amongst other treatments to effectively and safely bring her patients back to health and to a pain-free state. She is committed to treat every patient with compassion to help them achieve overall wellness.
Ana graduated Cum Laude from the Acupuncture and Massage College and she is certified by the National Certification Commission for Acupuncture and Oriental Medicine (NCCAOM).